China: the world's largest country by population and soon to the the largest economy on Earth. Home to more than 1.4 billion people, $65 Billion invested by venture capital (now #1 globally) and the second most unicorns on Earth, it's no wonder why the the largest tech companies are all hiring and expanding into the mainland. It also explains why startups are flying to the other side of the world to test if their companies have what it takes to tap into China's booming consumer and business to business economies.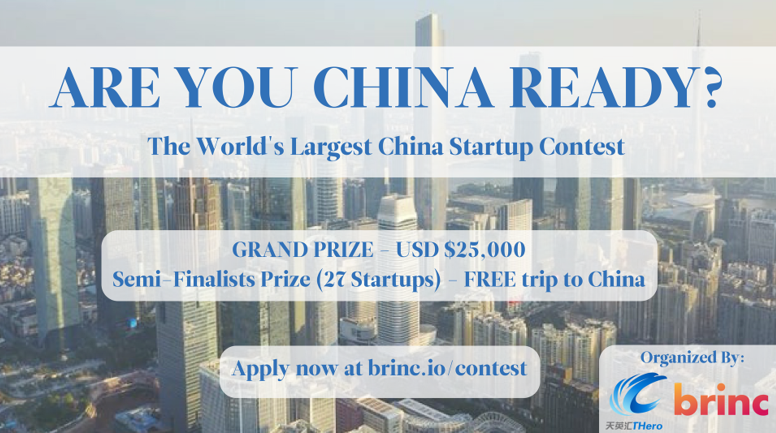 The 'Are You China Ready?' competition will be touring 9 cities and 8 countries around the world in search of the best startups with the potential to become BIG businesses in China. THero and Brinc, the partners behind the global 'Are You China Ready?' contest recognizes that most startups know that China is a market they should learn more about, but most don't know where to start. That's why the 2nd annual 'Are You China Ready' contest goes beyond applications and pitches and will select 27 startups from around the world for a week-long, FREE trip to Guangzhou, China this December, 2018 to train, refine, and eventually pitch to top tier VCs, China's largest tech companies and the government to see if they are truly ready for China.
This event will bring together 600+ business projects and startups spanning Israel, France, The United States, Germany, Canada, Singapore, South Korea, and Australia. It will also be a place where corporates, investors and governments gather to seek out talent, investment opportunities and to learn about the innovation that is connecting both the East and the West. The general layout of this event will be: Online Applications, Online Interviews and Semi-Finalist Selections, Semi-Final City Pitches, Online Training, and Grand Finals in China in December, 2018.
We are Now accepting applications!
Applications are currently OPEN online. We're looking for startups, ideas, or founders that have a product, service, app, or device that they believe is ready to enter the China market. While startups can be from any vertical, you must be able to explain why you believe your company or idea is ready to enter the Chinese market. This will be the most important qualification throughout the contest.
Note: We are only looking for startups that are able to join semi-final pitch events in San Francisco, New York City, Toronto, Paris, Berlin, Tel Aviv, Seoul, Singapore, or Sydney and can also make the FREE one week trip to Guangzhou, China in early December if chosen.  If you cannot join this trip you will not be eligible to win.
Preliminary Selection
After online applications are complete, applicants will be reviewed and 8-10 teams from each city will be chosen to take part in City Pitching. City Pitching will take place in all 9 cities around the world. Startups will be given 3 minutes to pitch and, followed by an intense round of questions from prominent judges in each market. After all startups have completed their pitch, judges will deliberate over the top 3 winners. The top 3 winners from each city will automatically qualify for the finals in Guangzhou, China and two members from each of the three teams will receive FREE flights and accommodations.
Final Challenge
The Final 27 teams will emerge to take part in The Finals held in Guangzhou, China.
A rundown of the awards:
One Grand Prize Winner will win $25,000 USD in cash
All 27 Finalists will get the chance to interact and network with top Chinese tech companies like JD.com, NetEase and more.
All 27 Finalists will receive hands-on training on how to pitch in China, how to test early market channels both online and offline, and how to pitch to Chinese VCs.
The top 10 out of the 27 Finalists will also receive a FREE grant to set up their companies in China, should they decide they are truly China Ready!
All 27 Finalists will receive interviews on Startup Grind's global Medium channel and with local Chinese press in partnership with NetEase and other media outlets.
If you'd like to learn more, please visit: brinc.io/contest or reach out to bay.mclaughlin@brinc.io via email
Thank you to all the partners that have helped make this contest possible:
Organized By:
Tianhe People's Government, Guangzhou
Guangzhou Science Technology and Innovation Commission
Industry and Information Technology Commission of Guangzhou Municipality
Guangzhou Municipal Science and Technology Financial Service Center
Brinc